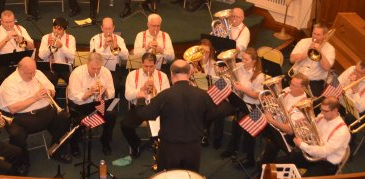 Frankfort Brass Band 2
Band Post
March 31, 2016,
Comments Off
Good evening everyone!!!
The FBB has been privileged to perform for the WWII Greatest Generation as they return to Chicago Midway Airport. Their Day of Honor in Washington D.C., courtesy of the Honor Flight Chicago organization, pays tribute to the men and women who served this country in its greatest hour of need.
The FBB is privileged to perform for these humble men and women of the Armed Services as they return to Chicago and experience a Parade of Honor in tribute of their service to a grateful nation.
This year's schedule:
Wednesday April 13
Wednesday May 11
Wednesday June 8
Wednesday July 13
Wednesday August 10
Wednesday September 7
Wednesday October 5
(Note: All flights this year are chartered, so flight data is not available just yet. But the flights are usually scheduled to arrive sometime in the 8:00pm hour. Further information is available at honorflightchicago.org.)
We hope to see all of our friends and families at the first 2016 Honor Flight in April.
See you at Midway!!!
Thank you!